en:support:drucken:drucken_per_email
Table of Contents
Printing with mobile devices - Email to Print
You can use Email to Print with a PC, tablet or smartphone. The basic requirement is that a web browser is installed on your device. A mail client makes it easier and more convenient to use this service. There is no need to install printer drivers or client software unlike for printing from your own PC under Windows.
Your document must be in PDF format. At the moment only one queue is set up: Documents are printed in DIN A4 format, black and white, printed on both sides.
For security reasons a connection to the campus network is required to use the Email to Print service. On campus you can connect to the Wi-Fi network eduroam. If you want to send print jobs from home, you have to activate a VPN client to get an IP address from the campus network.
Short instructions
You write an email from your student mail account to followme@uni-goettingen.de and attach a PDF file.

You open the confirmation email in your inbox and click on the link in this email. This link is valid for 24 hours and for this step you have to be connected to the campus network.

Your browser opens and you confirm the order.

Within 72 hours you can release the order on a Follow-Me printer on campus.
Step-by-step instructions
Depending on the device, operating system and mail client / mail app, details differ slightly - but in general, the steps are identical.
This manual explains how to use Email to Print under Android 9 on which a student email account was already set up. For iOS see here.
1. Create a new email from your student email account to followme@uni-goettingen.de and attach your print job as PDF file to this mail. You can also attach several PDF documents to your mail.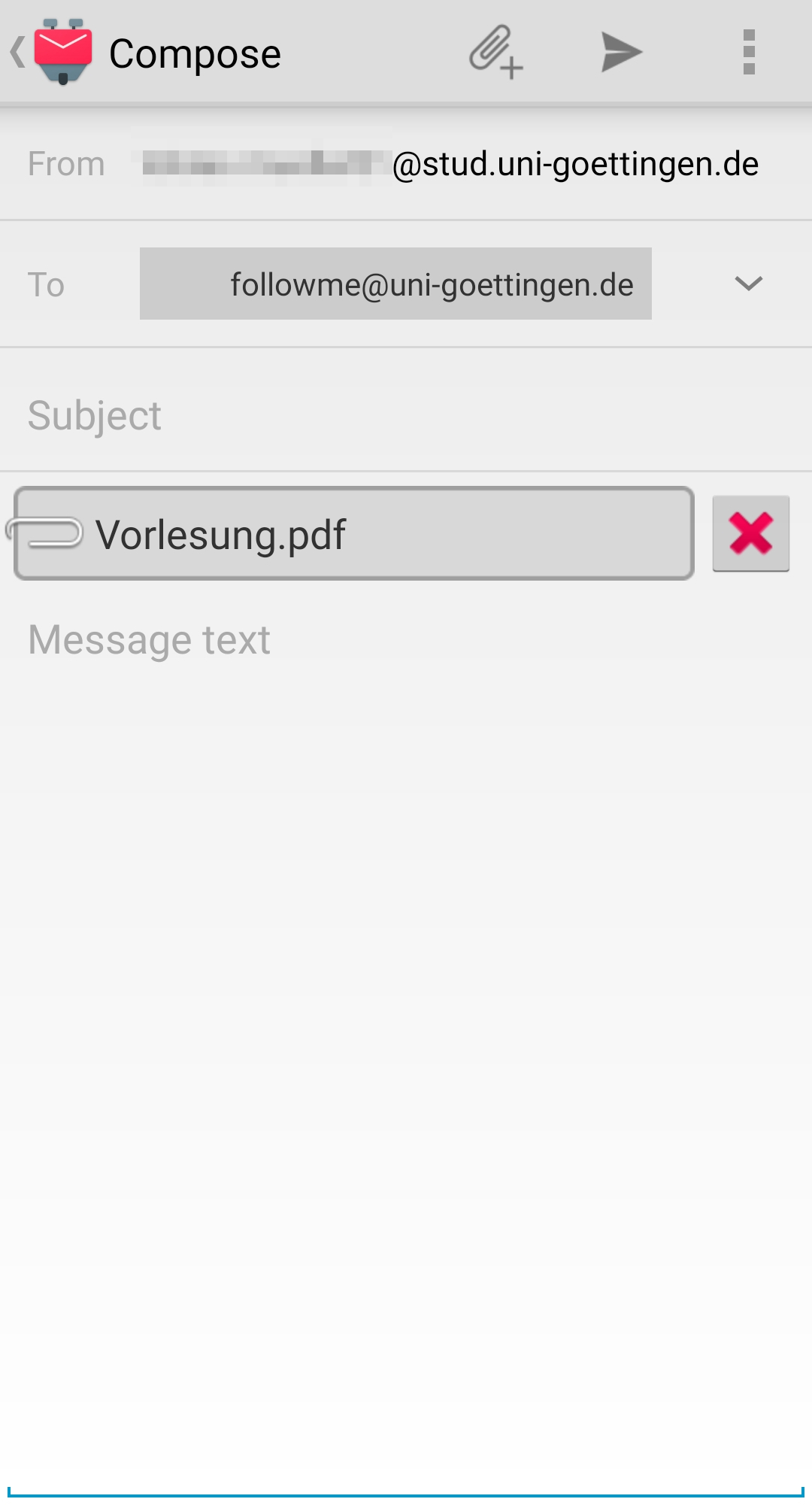 2. After a short while you will receive an email with a confirmation link. Click on the link and your browser will open. For this step you must be connected to the campus network - eduroam (on-campus) or VPN (off-campus).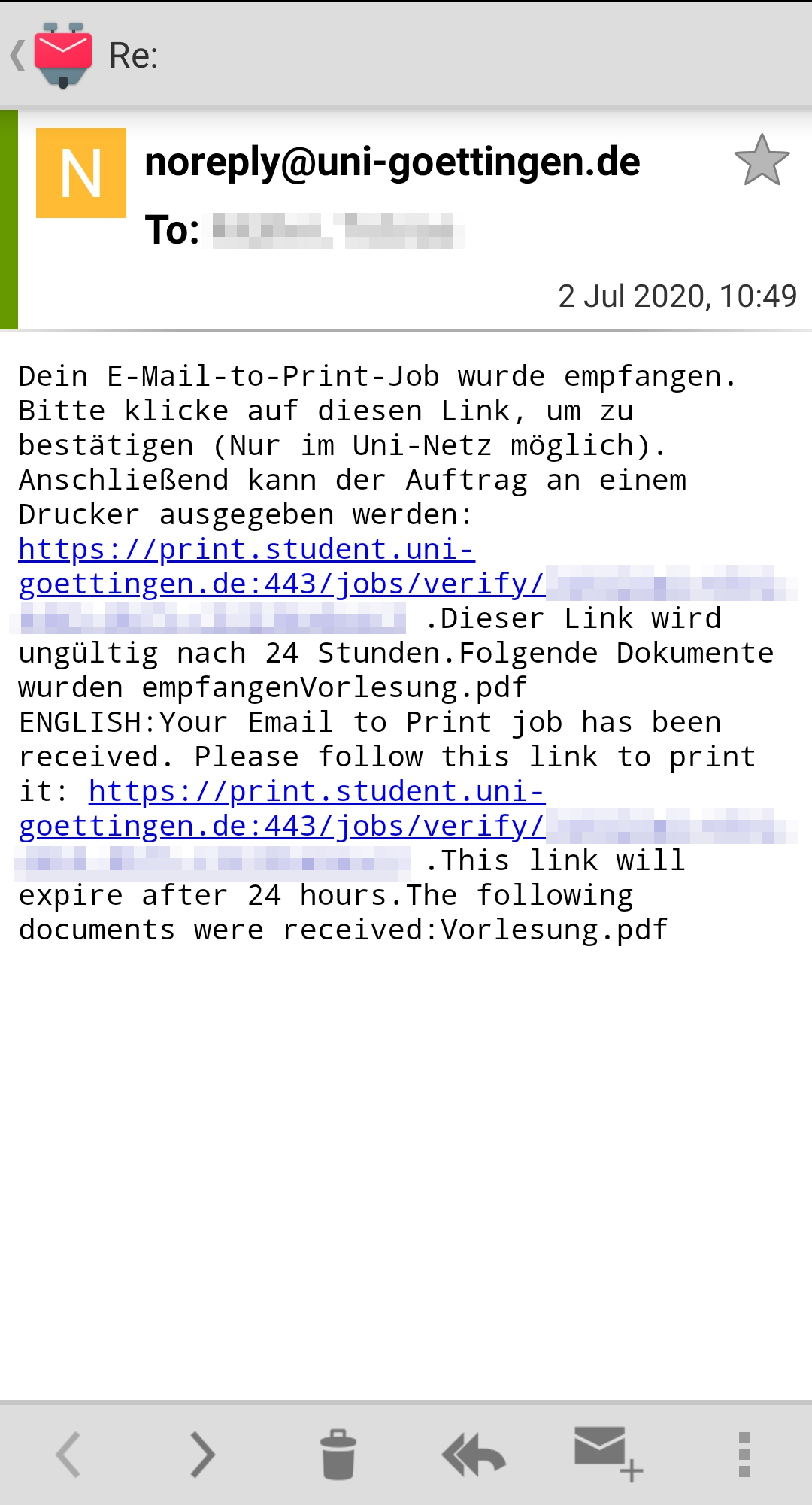 3. Now confirm the print job with Print…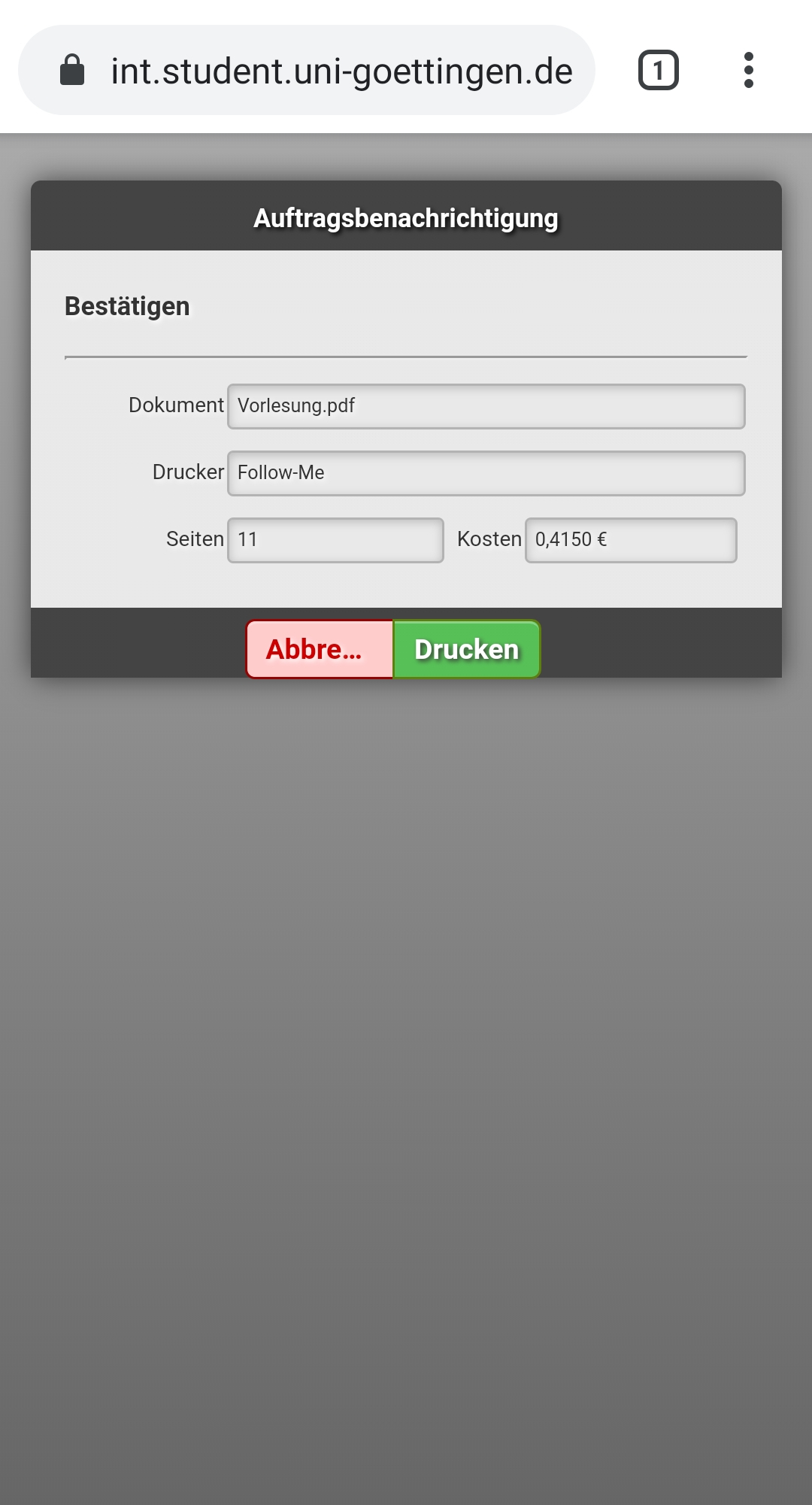 4. …and you will receive a message that the document is ready for processing.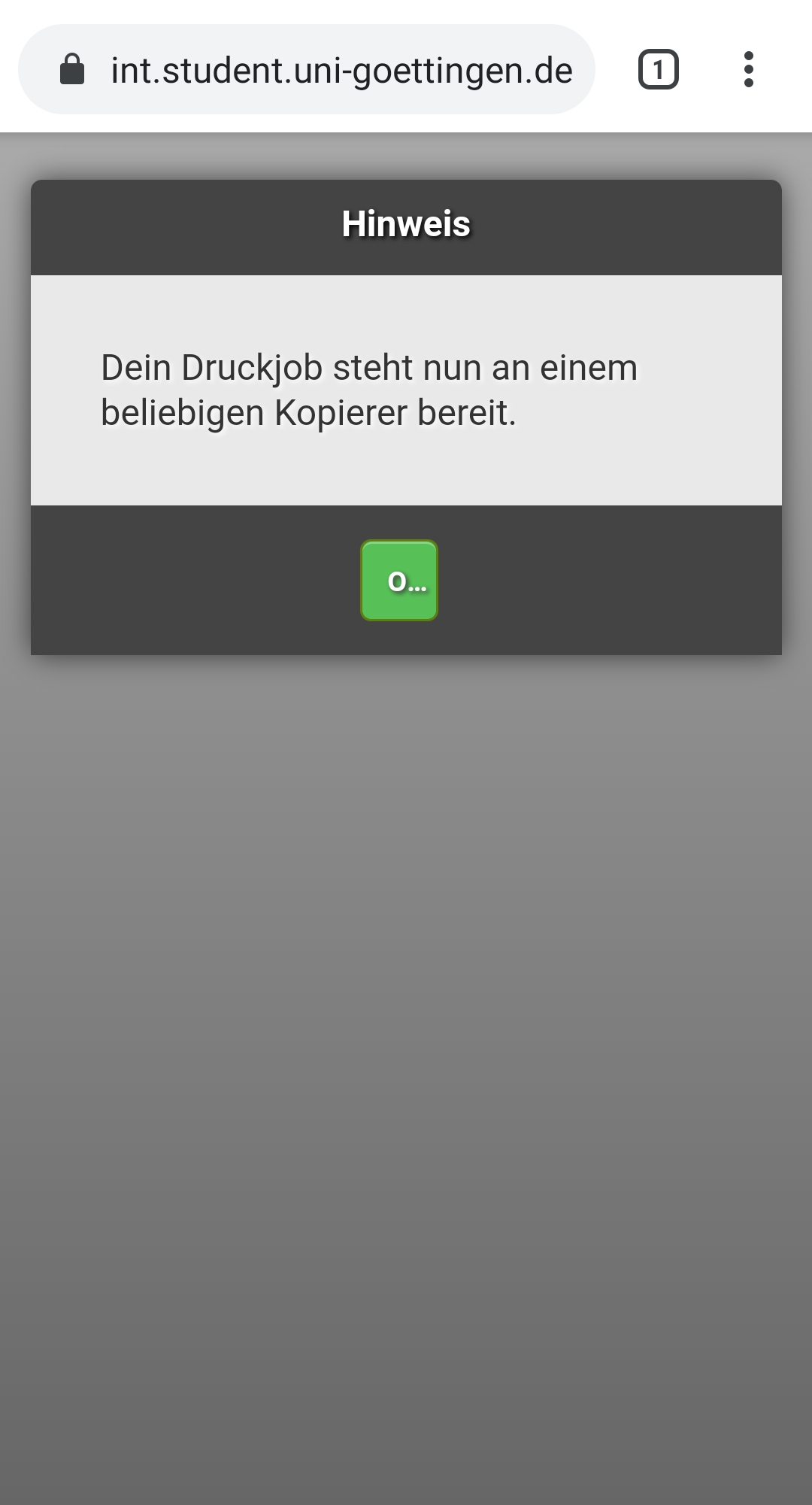 5. Finally, you will see an overview of submitted print jobs pending release. If your printing contingent is not sufficient to release the print job, you will need to top it up beforehand. You can find out here how to do this. An overview of the locations of the Follow-Me printers can be found here.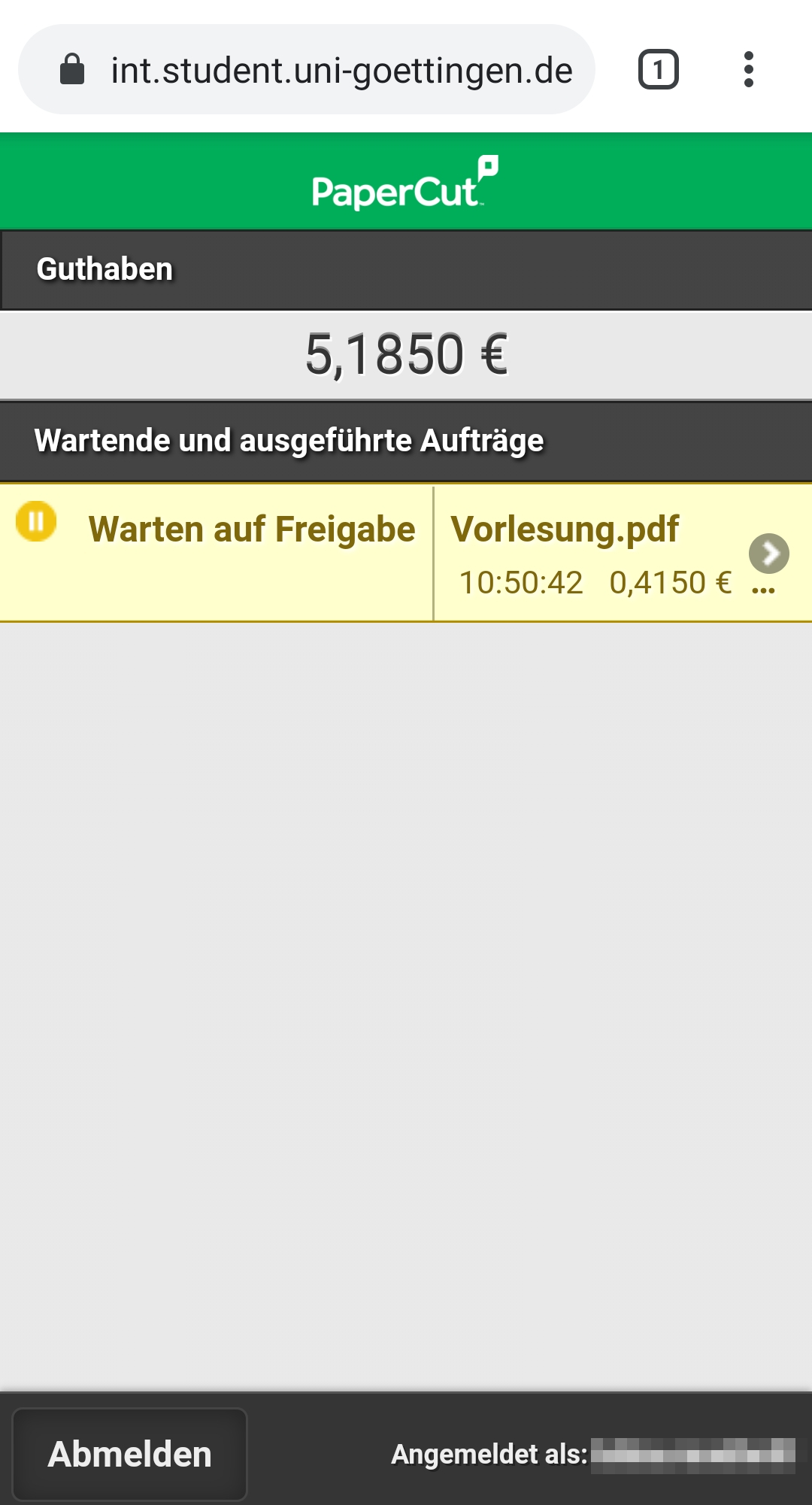 en/support/drucken/drucken_per_email.txt · Last modified: 18.01.2023 11:45 by 127.0.0.1
---