en:support:wlan:vpn_client
Table of Contents
VPN client for Windows
With every connection the VPN client establishes a highly encrypted tunnel. With this SSL-encrypted tunnel to Cisco gateways communication can be protected from the access by third parties.
You can find all information of how to use the VPN client on the GWDG website.

Due to the current load in VPN, two more servers were set up in addition to vpn.gwdg.de: vpn-b.gwdg.de and vpn-c.gwdg.de . We recommend using one of them.

You may download the AnyConnect client from here:
https://ftp.gwdg.de/anyconnect/
Username: vpn
Password: fernzugriff

Why using the VPN client?
Because the Wi-Fi network GoeMobile is unencrypted, you should use the VPN client to establish an encrypted connection to protect your data. Additionally, you will automatically recieve an IP from university to gain access to the university network.
Cisco AnyConnect
The configuration of Cisco AnyConnect is the easiest and most popular way of establishing an encrypted connection via VPN. In the following you can find the instruction of how to install and use the Cisco AnyConnect VPN client.
Installation
The installation has the following three steps:
1. Open your browser and go to http://vpn.gwdg.de/ and log in with your username (firstname.lastname@stud.uni-goettingen.de) and password.
2. Now the auto detection of the installed Java-version (or in the Internet Explorer: ActiveX) launches.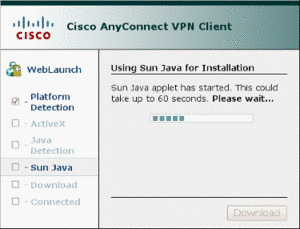 3.In case…
a)…a Java environment (JRE) by Sun is installed, two questions for security and confirmation appear and installation starts. After installation the client will be launched automatically and establishes a connection.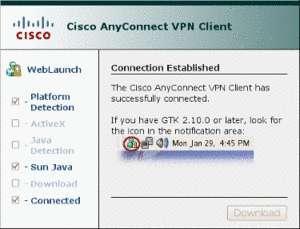 b)…a different JRE installed, WebStart stops and offers an installation package (e. g. as a script) for download.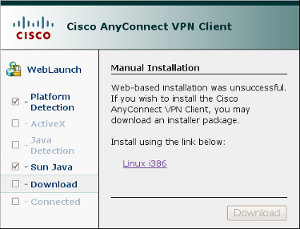 The file must be downloaded and executed to start installation. In most cases installation has to be allowed by request of the firewall.
c)…an installation through ActiveX is possible and confirmed by the user the installation starts directly.
After installation the client starts. For the connection enter vpn.gwdg.de and log in with your university email-address and password.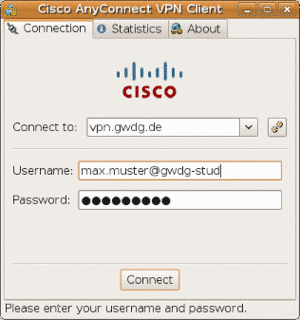 4. After successful connection the client minimises itself to a tray icon. The connection can be terminated by double clicking or right clicking. After successful installation the client can be launched manually like other applications without going to vpn.gwdg.de first.
Wi-Fi wifi goemobile wireless radio network GWDG VPN client anyconnect encryption security
en/support/wlan/vpn_client.txt · Last modified: 18.01.2023 11:45 by 127.0.0.1
---