FAQ
1. I have a question and cannot find an answer in the FAQs. Where can I find support?
Please turn to info@studit.uni-goettingen.de in this case.
2. I cannot log in. What can I do?
To log in please use your student ID exclusively and be aware that both the password and the user name are case sensitive (mind your small and capital letters!). The full user ID must be entered in lower case.
3. I receive a Shibboleth error. What can I do?
If you use the return button of the browser while using Stud.IP, it is possible that the following error is displayed (see pictures). In this case, please click on the forward-button of the browser or click on Stud.IP in the navigation bar again. You can then continue to work normally. We are working on a solution for this problem.
Error in Firefox:

Error in Safari: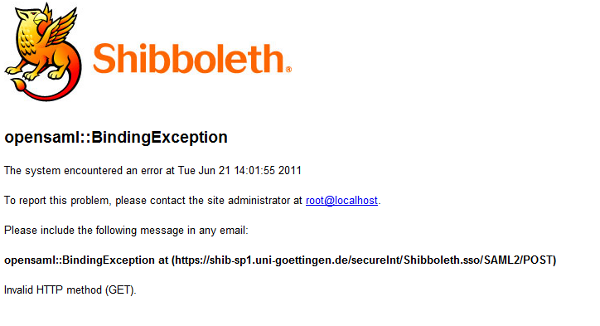 Login to eCampus
You will have to log into eCampus with your student account, which is usually firstname.lastname, and a password. You have received your account info when you got your student ID. Please make sure you don't use capital letters when typing your username!
In case you should have any questions, write an email to info@studit.uni-goettingen.de , call us at (0551) 39-23366 or drop by at one of our helpdesk locations.
en/support/ecampus/faq.txt · Last modified: 18.01.2023 11:45 by 127.0.0.1
---