en:support:ecampus:allgemeines
Table of Contents
Basic facts about eCampus
eCampus (electronical campus) of the university of Goettingen functions as a portal for students of the university and therefore depicts the central access point to all relevant online services. It includes: UniVZ, selfservice function, Stud.IP, go@med (only for medical students), FlexNow and your E-Mail account.
If you login to the eCampus portal you will be automatically logged in to the mentioned systems as well, which you can then also use directly. (exception: go@med still requires a separate login.

Moreover, you have the chance to design a personal front page with individual content. For example this could be different news of the university, news, weather forecast or a rail connection of the Db. What you choose and what ypu can see is totally your choice.
The login to eCampus functions with student account (usually forename.surname). Please take care of small and capital letters!A login with the matriculation number is not possible! The user account for students of the university of goettingen exists since 2008. If you do not have one, you can easily get at it at one of our consulting locations of studIT .
General information about the help section
In this help section there are merely descriptions of the functions of eCampus.If you need help with the connected systems, please use the given help function. Here are the links:
Browser recommendations
All the functions of eCampus can be used with the established browsers in each current version. For an optimum use we recommend using Firefox, Google Chrome or Apple Safari.
You can also use all of the portal functions with Microsoft Internet Explorer . Nonetheless, you should take care of the user instructions of Microsoft Internet Explorer.
Internet Explorer versions 8 and under will explicitly not supported. Moreover, restrictions of the personal front page can be expected when using the browser of mobile terminal devices (smartphones and tablets).
Advice for the use Microsoft Internet Explorer
If you would like to use Microsoft Internet Explorer, you should keep in mind that on the pages of eCampus, especially on the personal front page, the following messages will be shown quite often:

For older versions of Internet Explorer this message can look differently.
Unsafe content mainly includes graphics that for example are shown in the portlets. In this case the content is not critical in any way. Because of that you can safely click on [No] . All relevant content will of course be transferred through a secure and encoded HTTPS connection. If you are feeling disturbed by this message you can dismiss it as follows:
1. Please click on Extras in Internet Explorer and then click on internet options.
2. Click on register tab security and then on Stufe anpassen(adjust level).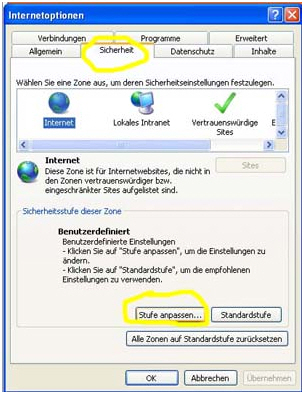 3. Now please navigate in the dialogue box Sicherheitseinstellungen (security options) to Gemischte Inhalte anzeigen (show mixed content) in the section Verschiedenes (miscellaneous) and click on Aktivieren(activate).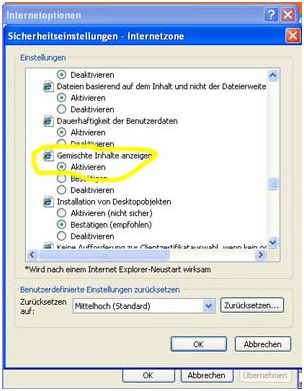 4. Please click on security options (Sicherheitseinstellungen)in the dialogue box and then on OK or Yes ,respectively. Afterwards again on OK to leave internet options.
Structure of the portal
eCampus consists of three different areas: header, content-area and footer. These areas are shown on every portal page. Whereas the size of the header and footer is fixed, the size of the content-area is variabel depending on the browser window. The header includes logos, navigation elements, the bookmark menu, an information area as well as the login and logout links, respectively. In the content area connected systems like Stud.IP, your E-Mail account and also your personal front page are displayed. The footer includes general important links, for example to the help section. In header and footer you can decide what exactly should be displayed in the content-area.
Reduction of the header
To gain a bigger work space the header of eCampus can be minimised. This can be especially useful for smaller displaying devices e.g. netbooks. To switch the header please click on the minus-(plus-, respectively) ymbol next to the logout link. Your personal header setting will be retained even for a repeated login.

Official front page
After you have typed https://ecampus.uni-goettingen.de into your browser, you reacj the official front page of eCampus. All content that is now shown is identical for every student and other visitors.
Contents
Besides links to the AStA and the Studentenwerk you can see the newsfeeds of the service centre, the press office and the AStA, as well as a welcome text. The press office, the service centre and the AStA are responsible for this content. If you have any queries to the content, please do not hesitate to contact directly the given feed-editor.
Login
In the right hand corner of the official front page under the UMG logo you can find the login mask.
Here you can login with your student user id. You then get to your personal front page and can navigate the connected systems from here. Another login is not needed.
Personal front page - (Home)
The appearance of the personal front page can be adapted to your personal needs. For example you can insert another tab page or place additional content in form of portlets. If you have changed certain things at the front page, you can easily access them everywhere. After every login you can go back to your individual desktop. Your personal front page can only be seen by you and other students do not have access to this. If needed you can also switch back to the configuration baseline. How your can use this option will be explained in the following.
Default page
If you use eCampus for the first time your front page includes preselected content (portlets) which are the same for every student. You can change these contents and adjust them as desired and if needed also change it to the initial state. For this please click on [Persönliche Einstellungen zurücksetzen]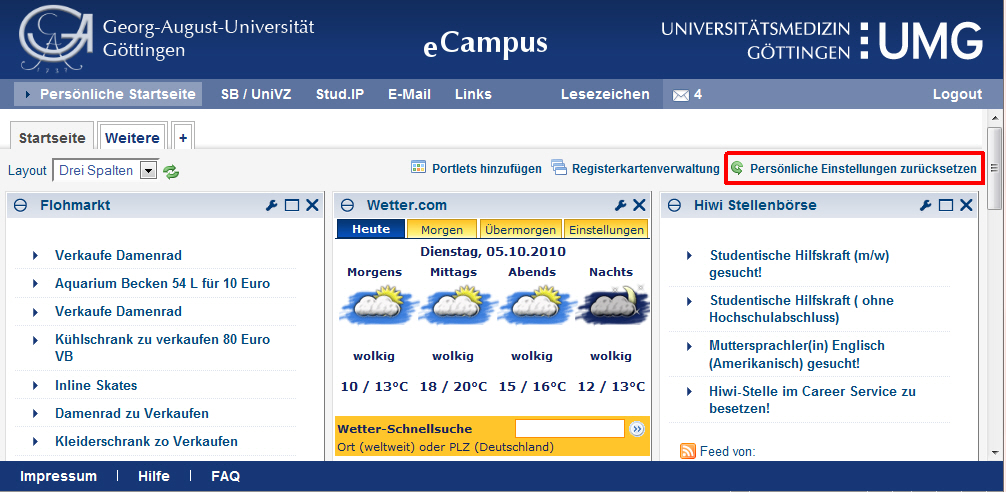 After you have confirmed your personal front page will be completely reset which means that all your tabs and portlets which you have added will be deleted and also your configuration of this portlets which you have added will be lost. Nonetheless, you can add all portlets once again and configurate them again. If you are sure that your personal front page should be reset, please clik on [Yes].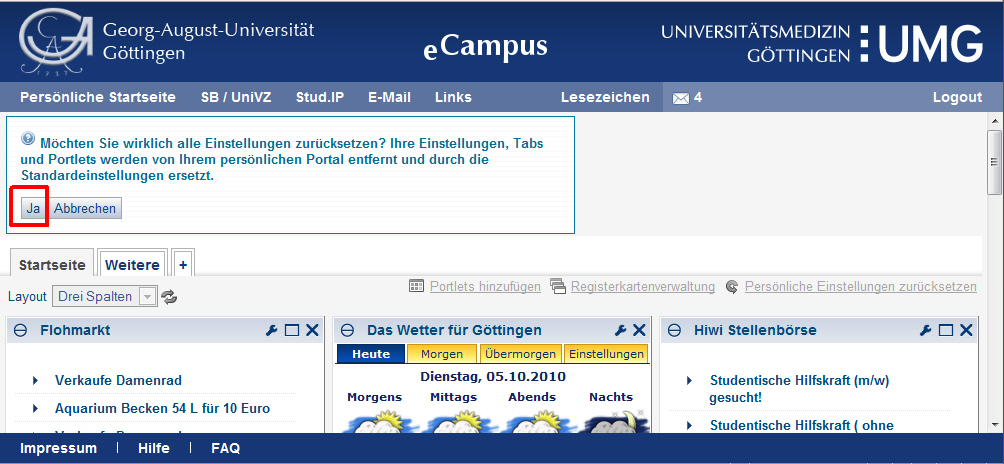 en/support/ecampus/allgemeines.txt · Last modified: 18.01.2023 11:45 by 127.0.0.1
---