en:support:drucken:kopieren
Table of Contents
Photocopying
Copying with copycards/ cash
Göttingen University is providing printers all over the campus, on which you can print with the required copycards (magnetic stripe card, NOT your student ID). The cards are sold at the locations where the printers are available. At some locations (e.g. SUB) you can also find coin-operated copiers on which you can pay cash.
Copying with your student ID
Since February 2012 you can use your Student-ID to print at most of the printers.
For printing NOT the debit on your student ID will be used (as you pay at the cafeteria) but the money on your print account which is connected to your university account. An example: You have 5 € on your student ID and buy something at the cafeteria. After that you have 1 € left on your card and want to copy. This Euro has to be deposited on your print account before you can use it for copying or printing. For depositing money from your student ID to your print account, go to the chip card issue point! After that you can use a copying machine.
You can recognise those fully equipped printers at the sideways installed reading device. Furthermore, they are provided with the following pictogram:
Locations of all printers available at university
Here you can find a list with all photocopying machines available at university.
Operation of the Reading Devices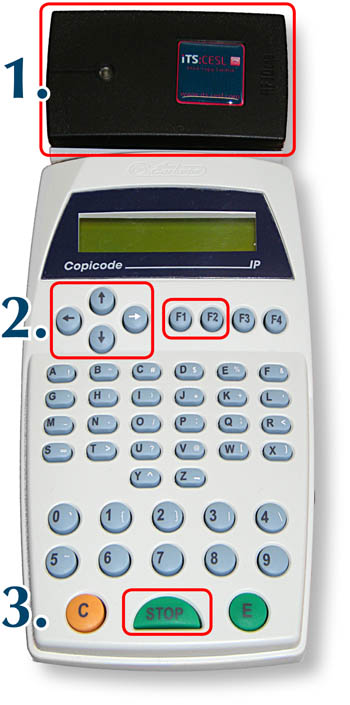 1. Login
To log in you have to put your student card on the reader. The card was successfully read if a signal sounds. After this has happened, you can remove your card.
2. Copying
After the login your user id and credit show up on the display. Now, assumed that you have credit, you can copy. If documents are waiting in the Follow-Me queue, the following announcement will show up:
F1:Print
F2:Copy
In this case the copy function has to be chosen explicitly by pushing the button "F2". (For the printing function: have a look at the instruction for Follow-Me printing.)
3. Logout
You can logout by pushing the Stop button. After 30 seconds inactivity an automatic logout will happen due to security reasons.
printer printing print copy photocopy photocopier photocopying
en/support/drucken/kopieren.txt · Last modified: 18.01.2023 11:45 by 127.0.0.1
---